On April 16, 2020, international media PharmaBoardroom published an article on "China's Regulatory Reform and its Contribution to Global Pharmaceutical Innovation" written by Dr. SONG Ruilin, Chairman of China Pharmaceutical Innovation and Research Development Association (PhIRDA).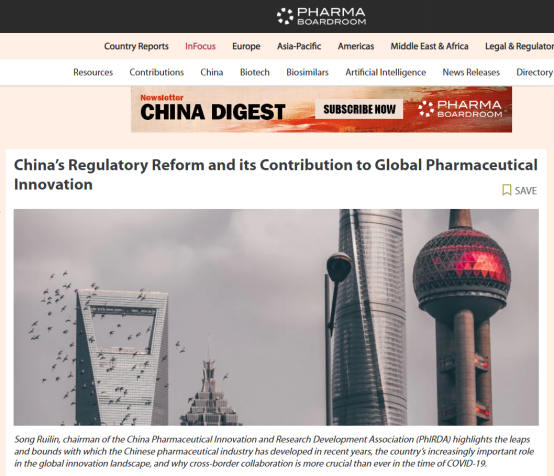 The article introduced a series of reform policies intended to foster pharmaceutical innovation as well as strengthen intellectual property (IP) protection, accelerating the pace of new drug development and translational science. As the reforms have advanced, China's pharmaceutical industry has made tremendous progress especially on innovative drugs R&D. The number of clinical trial applications in China has increased significantly from year to year, the application and approval numbers of global multi-regional clinical trials involving China has also been showing an upward trend, the time lag between new drug approvals in the U.S. versus in China has been reduced remarkably, and the numbers of domestic and imported class-1 drug NDA approvals and launches have increased noticeably. It is clear that more and more global innovative drugs are now able to enter the Chinese market, offering more options to patients in China and allowing them to access and benefit from new therapies at the same time as patients globally. A serial of internally-developed symbolic innovative drugs with international standards were approved, filling the global gap in therapeutic areas. China has now advanced from being a global innovation 'follower' to a 'parallel runner' – with the ultimate ambition of becoming a global innovation 'leader'. China is now a contributor and provider of value to the global pharmaceutical innovation ecosystem. Thinking of the turbulent times as the COVID-19 is raging across the world, Dr. Song appealed that the only way to safeguard the progress of humanity and to protect the citizens of our global village is for the global pharmaceutical and healthcare sectors to come together and collaborate in an open manner in the pursuit of innovation.
This invitation from international media to Dr. Song to introduce China's regulatory reform fully demonstrates the world's high attention and expectation of innovation on China's pharmaceutical innovation industry. We firmly believe that China's continuous innovation in pharmaceutical industry can certainly play a more crucial role in the field of global pharmaceutical innovation.
PharmaBoardroom
PharmaBoardroom is a well-known international healthcare platform website, providing industry trends, news and reports from all over the world. Since 2019, PharmaBoardroom established the "Global Thought Leadership Network" for industry leaders to provide opinion pieces on hot healthcare topics and share their ideas. International Pharmaceutical KOLs includingThomas B. Cueni, Director General of International Federation of Pharmaceutical Manufacturers & Associations (IFPMA), Nathalie Moll, Director General of European Federation of Pharmaceutical Industries and Associations (EFPIA) were all listed as contributors of the platform.
Original Text:China's Regulatory Reform and its Contribution to Global Pharmaceutical Innovation