The 8th Asia Partnership Conference of Pharmaceutical Associations (APAC) was held in Tokyo, Japan on April 9, 2019. Upon invitation of APAC, Ms. Feng Lan, Secretary-General of China Pharmaceutical Innovation and Research Development Association (PhIRDA), Dr. Zhang Dan, Chairman of PhIRDA 1stDrug R&D Specialty Committee and Chairman of Fountain Medical (Tianjin) Co., Ltd. and Ms. Lu Xiaoti, Deputy Secretary-General of PhIRDA attended the meeting. PhIRDA joined APAC in September 2017 as the only representative of China's pharmaceutical industry.
Almost 400 senior executives from drug regulatory agencies, pharmaceutical industry associations and well-known innovative pharmaceutical enterprises, and 72 government representatives from various economies participated in this event, breaking the participation records of previous sessions ever. Theme of APAC this year covered topics including Universal Health Coverage, health technology assessment, stability data requirement for post-approval changes, good registration management & regulatory convergence, and natural products drug R&D based on open innovation in Asia. Mr. Thomas Cueni, Director General of International Federation of Pharmaceutical Manufacturers & Associations (IFPMA), Mr. George Nakayama, President of Japan Pharmaceutical Manufacturers Association (JPMA) and heads of 13 memberss of APAC participated in this event as well.
Mr. George Nakayama made welcome speech and pointed that APAC provided a platform enabling industry associations, government agencies and pharmaceutical companies to make mutual communication, promoting in-depth communication and contact of pharmaceutical innovation among economics and driving sustainable development and innovation for Asian pharmaceutical industry.
Established in 2012, APAC was organized by JPMA and initiated by 13 R&D-based pharmaceutical associations from Japan, China, South Korea, Singapore, India, Philippines, Thailand, Malaysia, Indonesia, Chinese Taiwan and Hong Kong, for the mission of expediting the launch of innovative medicines for the peoples in Asia. With the industry, government and academic community, APAC holds ongoing activities in the fields of Drug Discovery Alliances (DA), Regulations and Approvals (RA), and Access to Innovative Medicines(ATIM), and sets up Expert Working Group (EWG) respectively.
The 8thAPAC not only helps Chinese enterprises to learn more about major Asian economics' concept of pharmaceutical supervision, laying a solid foundation for international cooperation of pharmaceutical innovation, and also provide a strong support for China to learn rich experience from other countries and put forward policy proposals on scientific pharmaceutical supervision.
Ms. Mao Yuejia, Director of the Registration Department of Nanjing Sanhome Pharmaceutical Co., Ltd, Ms. Liu Jingchao, Senior Manager of International Registration of Nanjing Sanhome Pharmaceutical Co., Ltd,, and Ms. Zhang Lin, Project Manager of Information Department of PhIRDA attended this event.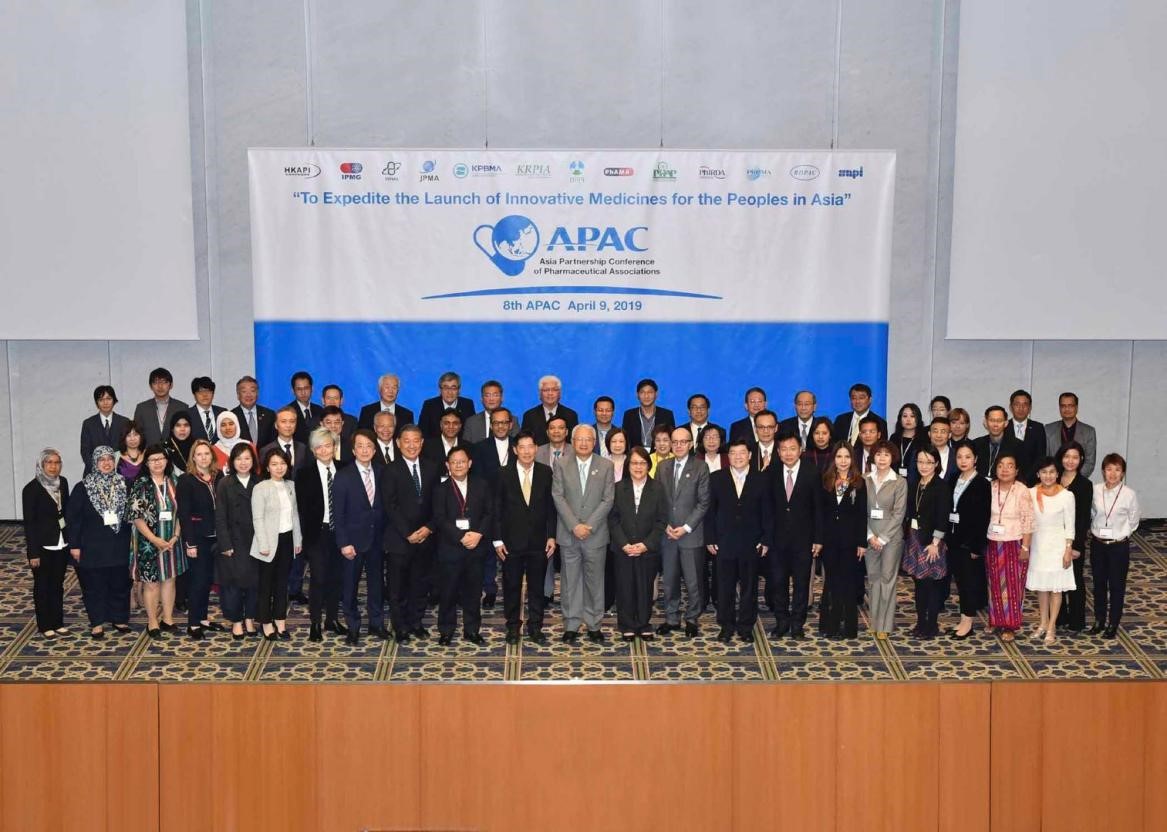 Group Photo of APAC Participants
APAC Press Conference