On March 2, Li Jia, Chairman of China Pharmaceutical Innovation and Research Development Association (PhIRDA) and Director of Shanghai Institute of Materia Medica, Chinese Academy of Sciences, and Song Ruilin, Executive President of PhIRDA, met with Lee Yi Shyan, Chairman of Business China and Former Minster of the Ministry of Trade and Industry Singapore and Senior Minister of State Ministry of National Development at Mandarin Oriental, Singapore, having in-depth exchanges on how to deepen collaboration in biopharmaceutical industry between China and Singapore.
Business China was officially launched by Singapore's Prime Minister Lee Kuan Yew and China's Premier Wen Jiabao in November, 2007. Headquartered in Singapore, this non-governmental, non-profit organization aims to combine lingual, economic, and cultural factors to establish a platform with the Chinese language as the communication medium so as to develop a cultural and economic bridge linking China and the world. In recent years, the organization has made great contributions to advancing cultural and economic exchanges between China and Singapore.
Chairman Li Jia introduced the tendency of the development of pharmaceutical innovation in China to Chairman Lee Yi Shyan. Li noted that, China now leads the second echelon in terms of the contributions to the global pharmaceutical R&D. Under current circumstances, stepping up cooperation with Singapore is of great strategic significance in making China's biopharmaceutical industry more internationalized. President Song Ruilin highly commended Business China and its Chairman, Mr. Lee, for the long-term commitment and contributions to advancing bilateral cooperation and exchanges. He noted that, Singapore has a high-quality foundation of the biopharmaceutical industry. As the regulatory members of ICH, the two countries have an extensive space for cooperation on the aspects of standards and the management of the quality of drugs. It is hoped that the two sides could establish cooperation mechanisms to deepen cooperation in biopharmaceutical industry. Chairman Lee extended a warm welcome to PhIRDA delegation's visiting to Singapore. Lee stated that, the biopharmaceutical industry is an emerging industry to which priorities have been given in recent years in Singapore. Business China would like to fully leverage its strengths to work with PhIRDA so as to promote the bilateral cooperation in pharmaceutical R&D, filling the gap of clinical needs, and spread the fruits of innovation to patients from all over the world.
After the meeting, representatives of both sides attended the gala dinner hosted by PhIRDA, co-hosted by Business China, organized by Beyondsoft.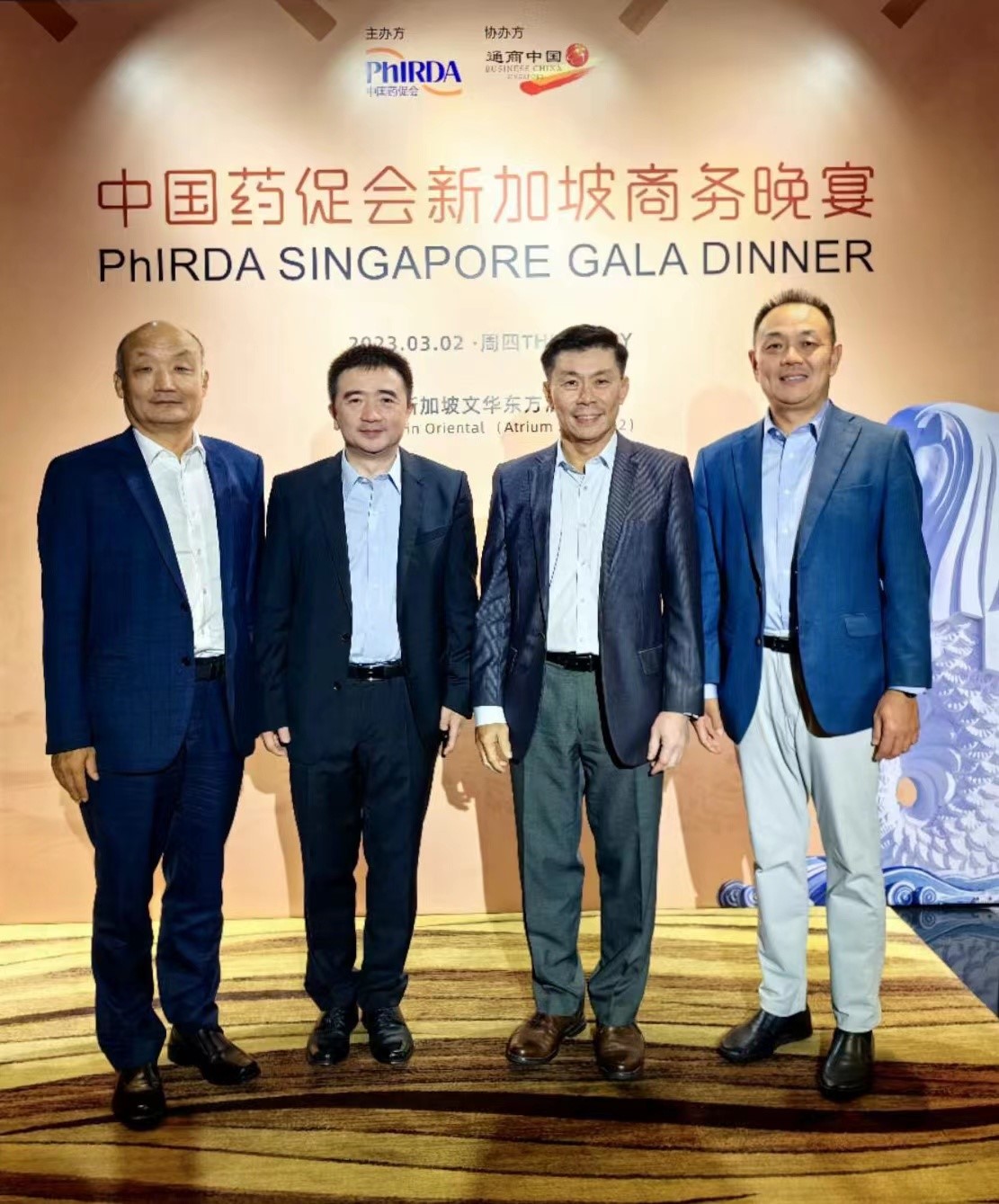 Photo of Representatives (From left to right: Song Ruilin, Li Jia, Lee Yi Shyan, Wang Bin, Chairman of Beyondsoft)