On the afternoon of April 12, 2022, Mr. Song Ruilin, Executive President of China Pharmaceutical Innovation and Research Development Association (PhIRDA), visited the Secretariat of the Shanghai Cooperation Organization (SCO), and had an in-depth exchange of views with Secretary-General Mr. Zhang Ming on promoting the establishment of multilateral and bilateral model of drug regulatory cooperation and mutual recognition under the SCO framework, and broaden cooperation in pharmaceutical and healthcare industry among SCO members.
Firstly, Mr. Song congratulated Secretary-General Mr. Zhang Ming on his assumption of office and briefly introduced PhIRDA and the achievements of the 2021 CIFTIS International Health Services and Pharmaceutical Innovation Cooperation Forum hosted by PhIRDA. Mr. Song noted that under the guidance of the National Innovation-driven Development Strategy, China's pharmaceutical innovation capacity has been significantly improved and China's pharmaceutical innovation has stepped into the second tier in global market. With the gradual transformation and implementation of ICH international coordination and guiding principles in China, the standards and norms of China's new drug R&D and clinical trial research are gradually in line with the international ones. More and more innovative products of high quality and low price independently developed by China have reached international standards and are capable to enter the international market. Innovative products from several core members of PhIRDA have been exported to some SCO members, greatly enhancing access to drugs and benefiting the local people.
At present, China's experience in fighting with COVID-19 and the successful development of vaccines have further enhanced the international community's recognition of China's pharmaceutical innovation ability and product quality. China should actively promote the establishment of a balanced and efficient model of international drug regulatory cooperation and mutual recognition among SCO members, build a platform for international exchanges in pharmaceutical industry under the SCO framework, and make due contributions to the building of a shared community of health for all.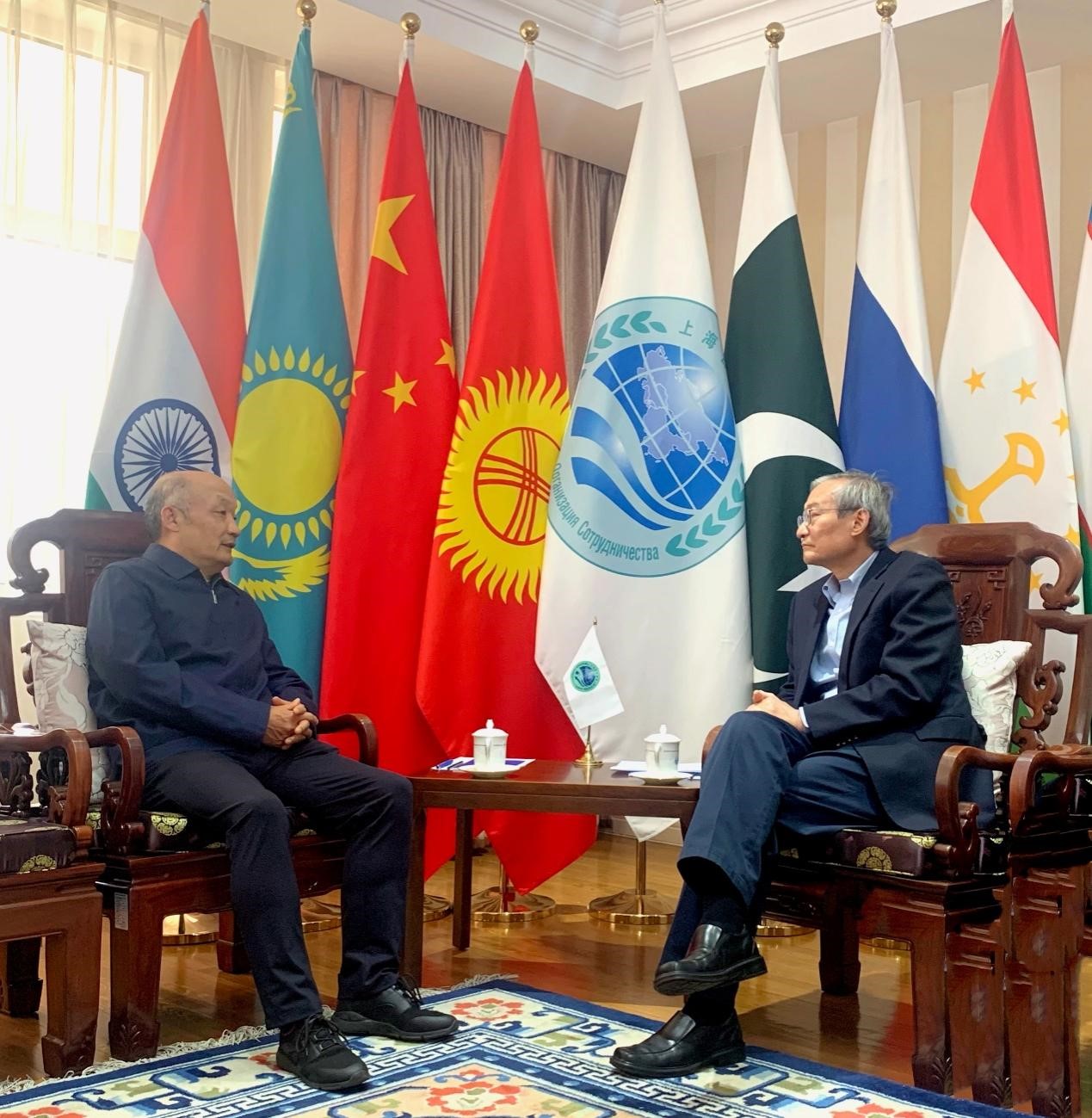 Meeting
Mr. Zhang Ming firstly extended a warm welcome to Mr. Song, and fully recognized PhIRDA's efforts in promoting the innovation and internationalization of China's pharmaceutical industry. He pointed out that strengthening international pharmaceutical cooperation under the SCO framework is an important measure to implement the consensus on cooperation among all countries including SCO members. The SCO Secretariat will fully give play to its role as the bridge, help build cooperation mechanism and communication platform between SCO members' pharmaceutical industry associations and PhIRDA, promote multilateral and bilateral pharmaceutical cooperation and exchanges between China and SCO members, and make efforts to improve healthcare condition and people's well-being!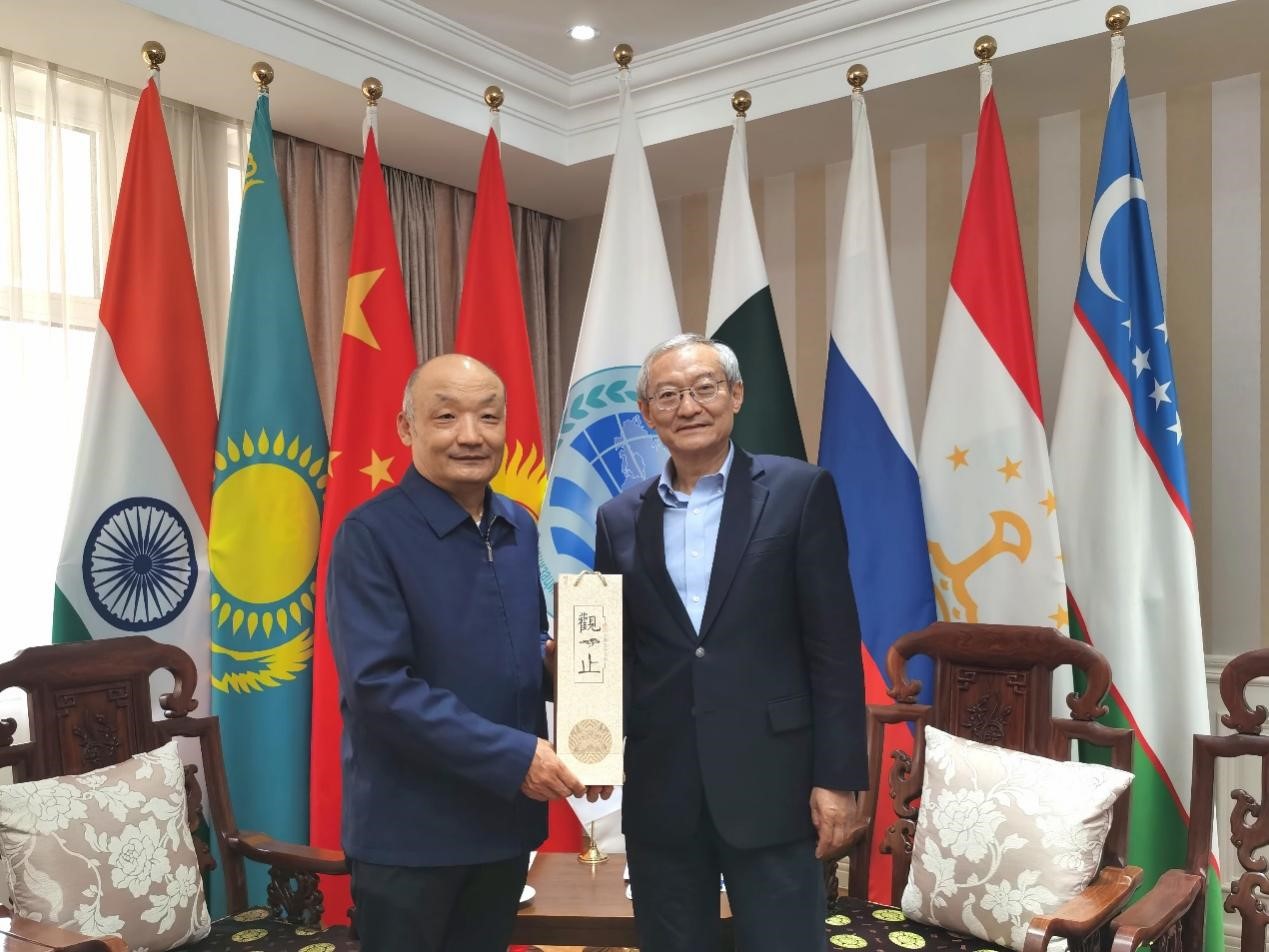 PhIRDA Executive President Song Ruilin and SCO Secretary-General Zhang Ming
Mr. Li Shuang, expert of SCO Secretariat, Ms. Lu Xiaoti, Deputy Secretary-General of PhIRDA, and Ms. Ruan Xinxin, Director of International Cooperation Dept. of PhIRDA participated in the meeting.