On 26th September 2021, the Rare Diseases and Orphan Drugs Roadshow (hereinafter referred to as "the Roadshow") of the 2021 China BioMed Innovation and Investment Conference (2021 CBIIC) was successfully held. The Roadshow has been held for three consecutive years, to building a platform for the government, medical and pharmaceutical institutions, enterprises and investors in the rare disease field to fully cooperate and exchange ideas, and to explore solutions for rare disease problems in China. At 2021 CBIIC, the Roadshow was themed with "Pharmaceutical Innovation of Rare Disease to Meet Patients' Needs", attracting experts, drug developers and policy makers in China to share views. The Roadshow was chaired by Liu Junshuai, Vice Chairman of PhIRDA Medicinal Policy Specialty Committee.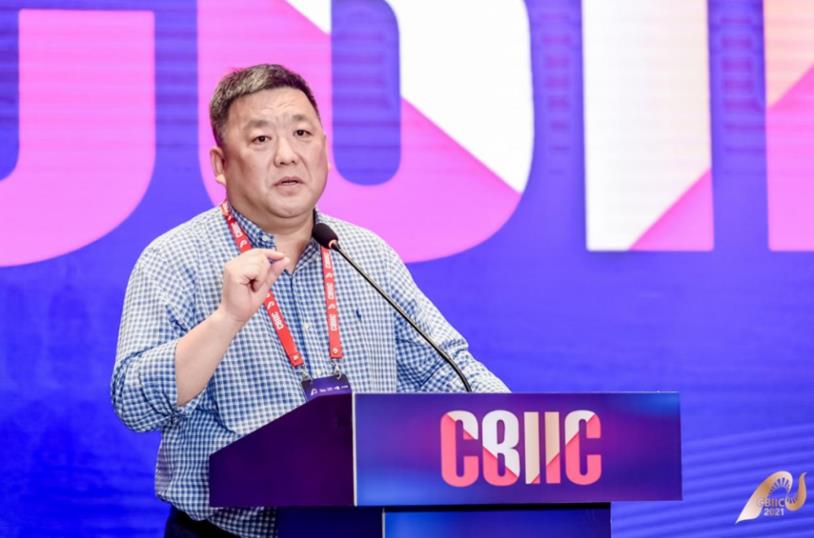 Moderator: Liu Junshuai,Vice Chairman of PhIRDA Medicinal Policy Specialty Committee
Li Linkang, Executive Director of the China Alliance for Rare Diseases and Vice President of the Chinese Hospital Association, gave an opening speech. Director Li introduced the policy environment for pharmaceutical innovation and the unmet needs in the field of rare diseases through vivid cases, expressed his gratitude to the companies, investors and the community for their continuous attention and commitment to the rare disease field, and invited the participants to join hands to explore the solutions for rare disease prevention and treatment in China.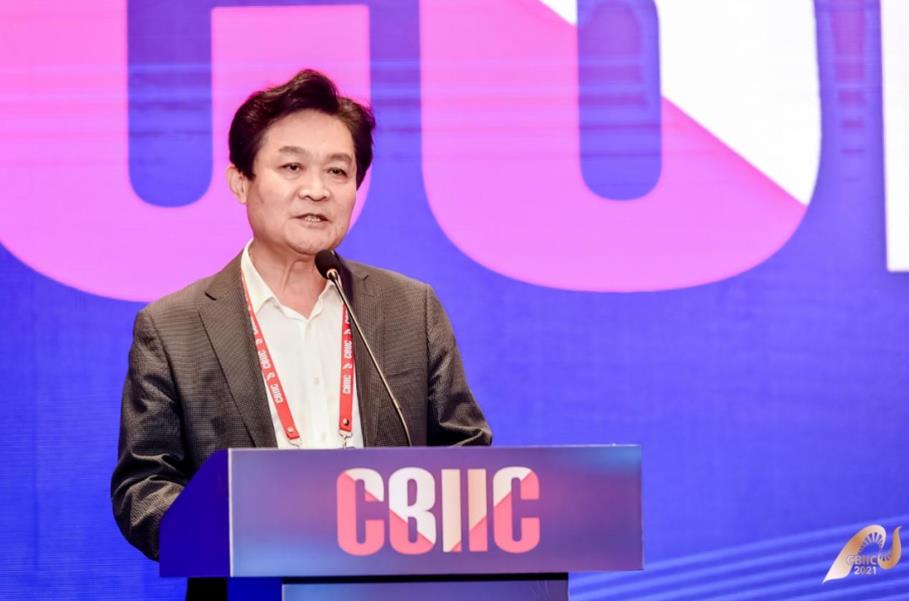 Speaker: Li Linkang, Executive Director of the China Alliance for Rare Diseases and Vice President of the Chinese Hospital Association
Ai Xing,Chief Reviewer of Medical Review Department I, Center for Drug Evaluation of the National Medical Products Administration (NMPA), gave a keynote presentation on "Thoughts on the Guideline of the Orphan Drug Clinical Research Development". The speech reviewed the history of China's rare disease drug review and approval system, introduced the current situation and challenges of rare disease drug development, and the main contents of the "Guidelines for the Clinical Development of Drugs for Rare Diseases (Draft for Public Comments)" (hereinafter referred to as the "Guidelines"). The Guidelines emphasize patient-centered and clinical needs-oriented research, strengthening basic research, taking into account the characteristics of rare diseases, using scientific tools to innovate research design and improve R&D efficiency, and strengthening drug life-cycle management, risk management and communication to provide accessible therapeutic drugs for patients with rare diseases.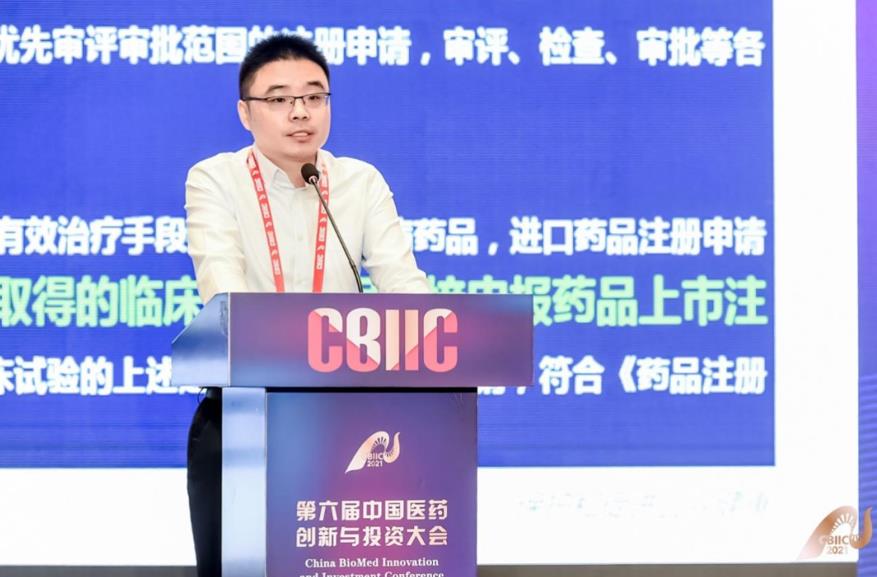 Speaker: Ai Xing, Chief Reviewer of Medical Review Department I, CDE, NMPA
James Xue, Founder, Chairman of the Board, and CEO of CANbridge, Vice Director of the China Alliance for Rare Diseases, gave a keynote speech on "Thoughts on the Construction of Rare Disease Ecosystem in China". Mr. Xue firstly pointed out the fact that pharmaceutical innovation in rare diseases requires long-run investment and accumulation, and there are various innovation models, whether original innovation or collaborative introduction, the essence is to meet the clinical needs of patients, which is the basis to pay off. Mr. Xue mentioned the need to build a policy system that balances innovation and accessibility, citing the policy and market for orphan drugs in the US as an example. While much work has been done in recent years to build the policy ecosystem in China, it will take the concerted and sustained efforts of policy makers, companies, hospitals and investors to achieve the goal of "access to disease, access to medicine, access to insurance and access to dreams".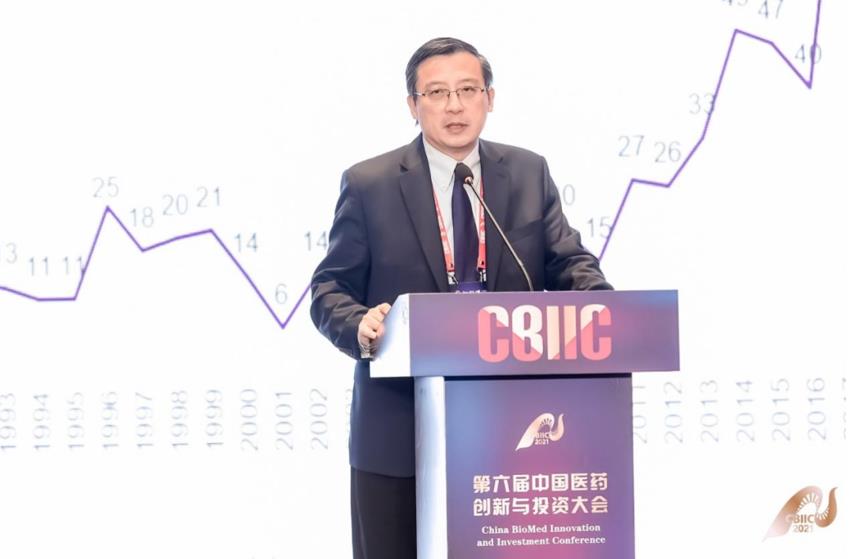 Speaker: James Xue, Founder, Chairman of the Board, and CEO of CANbridge, Vice Director of the China Alliance for Rare Diseases
The keynote discussion revolved around "The Road of Orphan Drug R&D in China" and was moderated by Director Li Linkang, joined by Chief Reviewer Ai Xing, Vice-Chairman Liu Junshuai, Yoyo Wang (Secretary-General & Founder of The Illness Challenge Foundation), Mr. Xue Qun and Mr. Chen Zhisheng (CEO of WuXi Biologics). According to the panelists, rare diseases can leverage innovation, for example, innovation in R&D technology, innovation in clinical trial design technology, innovation in health insurance payment models can be extended to other areas of innovation, and patients and patient organizations have the will to participate in drug development and policy making to promote rare disease drug innovation. In terms of policy support for drug innovation in rare diseases, the panelists considered the need to form a whole society governance and rationalise the allocation of resources: Ai Xing mentioned the need for drug review to keep an eye on new technologies and methods of companies, Yoyo Wang mentioned patient education and thinking about payment for innovation, James Xue mentioned the international marketing strategy, and Chen Zhisheng noted the need to establish a good technical platform and to work with patients and government to promote innovation. In terms of the future of pharmaceutical innovation in rare diseases in China, the panelists agreed that we need to improve innovation and drug access, develop domestic and international markets, and build a better policy environment based on the patient-centred value.
During the Q&A session, the audience mentioned the role of real-world data in the development and introduction of drugs for rare diseases. Ai Xing introduced the role of evidence generated from real-world data in supporting safety and increasing indications for rare diseases, and the need to focus on the quality of real-world data, while communicating fully and actively with CDE. Regarding the phenomenon of poverty and return to poverty due to rare diseases, Liu Junshuai argued that a better health care system is needed to promote patient drug accessibility, while supporting corporate innovation.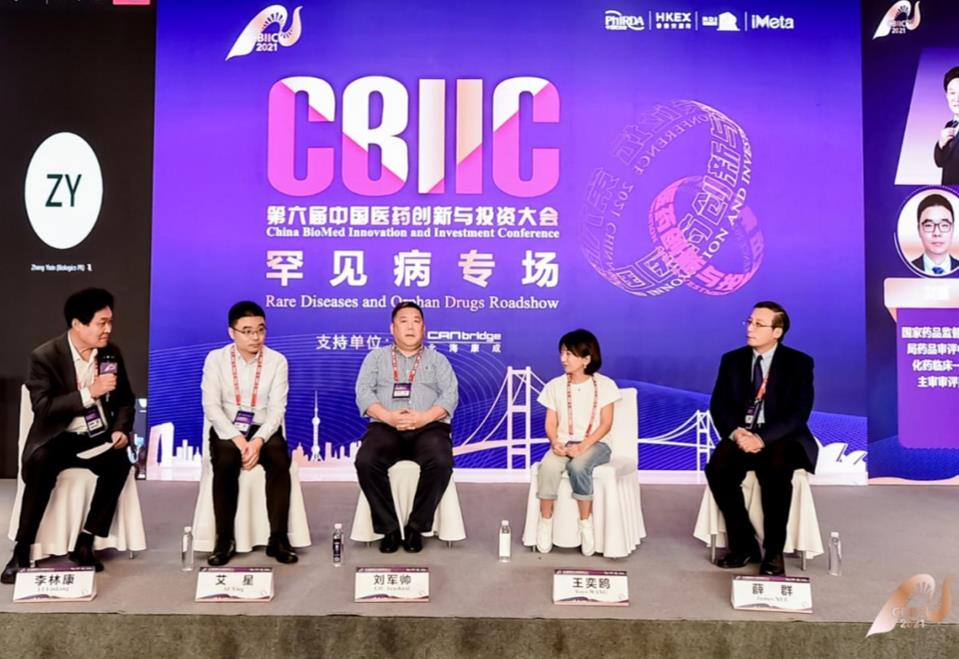 Panel Discussion
The second stage was a roadshow with six projects with different forms of innovation in terms of drugs and business models to meet the needs of patients.
Roadshow on Drug Innovation
The Development and Potential of Gene Editing Therapies for Rare Diseases (EdiGene)
Dr. Pengfei Yuan, CTO of EdiGene, introduced on gene editing tools and therapeutic application, especially in rare diseases, then highlighted China's enterprises are making efforts to catch up with the international companies supported by China's policy.
EdiGene is leading in this field in China. ET-01, the company's in vitro gene editing and haematopoietic stem cell product, was approved by NMPA for IND as the first one in China; in addition to joining hands with the Hospital of Haematology of the Chinese Academy of Medical Sciences to initiate an investigator-initiated clinical trial, with the first patient has been discharged from hospital. It also has its own innovative LEAPER™ in vivo RNA single-base editing platform, on which EdiGene is continuing to advance the development of a series of therapies for rare diseases such as liver and eye diseases.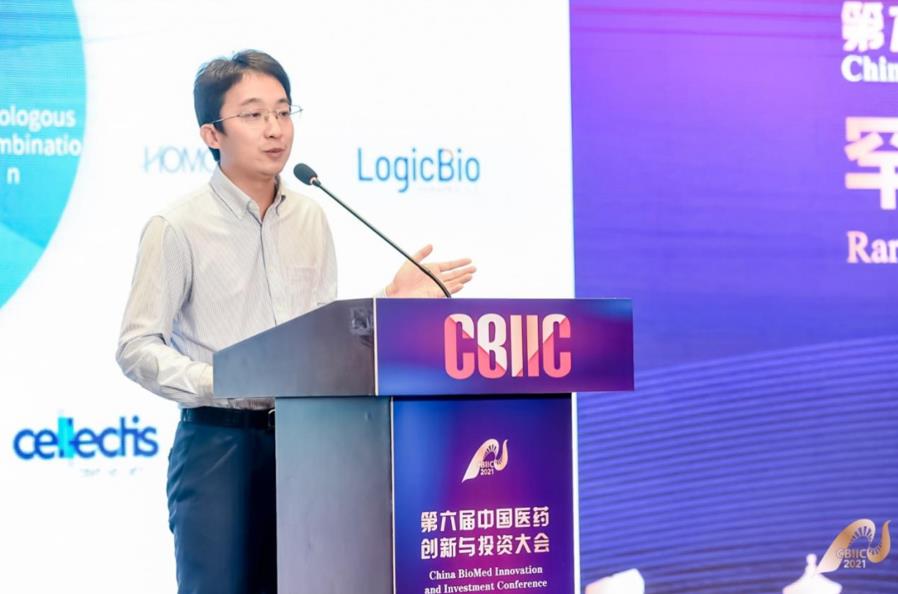 Yuan Pengfei, CTO of EdiGene
Developing Single-Target First-in-Class Treatment through Blocking TGF-β Activation by TSP-1 Technology (Chengdu Huitai Biomedical Co., Ltd.)
Wei Yijun,CEO of Chengdu Huitai Biomedical Co., Ltd. presented the mechanism of action, bonding strength and pharmacokinetic studies of the first-in-class novel drug HTPEP-001, a TGF-β activation inhibitor by targeting TSP-1, including the efficacy and safety studies conducted in cellular and animal studies for the treatment of pulmonary fibrosis and in combination with immune checkpoint inhibitors for the treatment of related cancers. These results suggest that HTPEP-001 is a promising first-in-class anti-fibrotic product in the world. With an international perspective, Chengdu Huitai reported its results at overseas conferences and received peer recognition, and has also deployed overseas patenting.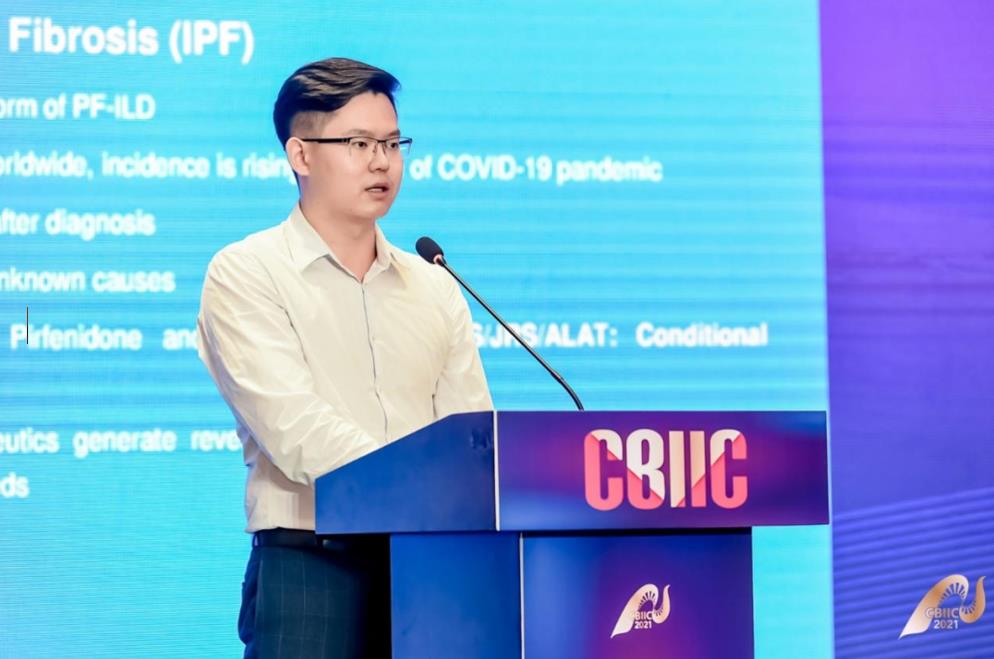 Wei Yijun,CEO of Chengdu Huitai Biomedical Co., Ltd.
Compliance Plays Key Role in Long-Term Medication of Rare Diseases (CoSci Med-Tech Co., Ltd.)
The R&D pipeline of CoSci Med-Tech Co., Ltd. includes modified formulations of drugs for rare diseases, with more than 50 new drugs having received clinical and manufacturing approvals or new drug certificates, and products are also being laid out in the US under 505b (2). Dr. Jiang Xin, Director of Pipeline & Strategy of CoSci Med-Tech Co., Ltd., reported on glucose extended release granules for the treatment of glycogen storage disease(GSD), which was made application under category 2.2+2.4. Compared to existing treatments, the drug has been improved in the following aspects: doses, administration approach, taste, compliance, and stable blood glucose concentrations with sustained release. Secondly, the company reported on its microtablet technology platform, which can offer more precise dosing in paediatric patients, with less adverse reactions to overdose and convenience. The company's Lamotrigine micro-tablet based on this platform has received clinical approval.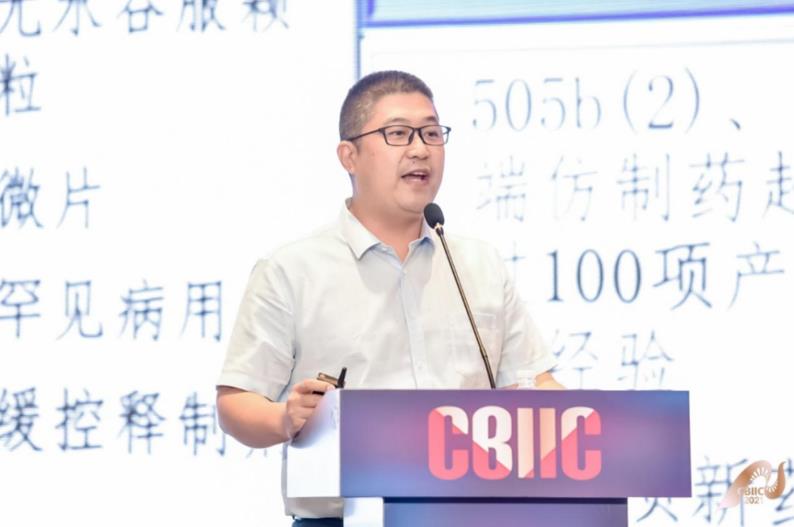 Jiang Xin, Director, Pipeline & Strategy of CoSci Med-Tech Co., Ltd.
Roadshow on Innovative Business Model
Research and Development Strategy of Patient Centered Orphan Drugs in China (Shanghai Cauchy Medical Technology Development Co., Ltd.)
Shanghai Cauchy Medical Technology Development Co., Ltd. has built an integrated service platform for orphan drugs and innovative therapies, with experienced and professional clinical, marketing, patient and physician resources, and established a compliant quality system to assist scientists and pharmaceutical companies in their rare disease research and marketing strategies based on clinical research and development, real-world evidence, and commercialization, ultimately realizing patient-centered pharmaceutical innovation. It also provides insights and directions for the direction of rare disease drug research in China through several case studies: e.g. early clinical multicentre trial strategy, internationalization strategy, improvement strategy, generic strategy, etc.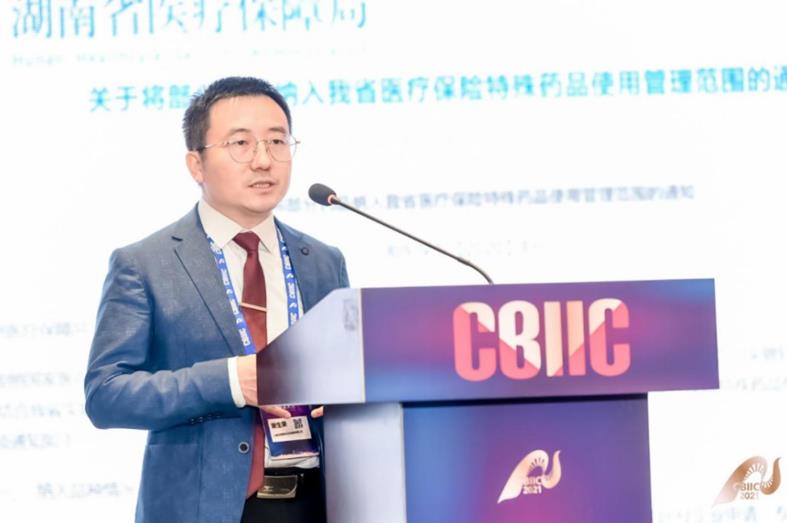 Ron Xie, General Manager of Shanghai Cauchy Medical Technology Development Co., Ltd.
Drug+Technology: a Patient-Centred Business Model for Rare Disease in China (RareStone Group)
RareStone Group builds its business based on rare diseases, including two fields: pharmaceuticals and health technology services. For pharmaceuticals business, RareStone Group is dedicated to building the largest rare disease drug platform in China, a commercialization team covering 1,000 hospitals, with professional rare disease drug development and registration team, so as to accelerate the launch of products; the company's two imported products need no clinical trial and one in the clinical stage, including Wakix. Wakix has not yet been officially approved for marketing in China but has been prescribed in Hainan Province. Its health technology services business continues to expand access to knowledge, treatment, payment and services for rare disease patients, building the largest rare disease eco-data system in China and the world, and providing data support for the development of next-generation rare disease drugs. For example, to address the problem of information asymmetry between doctors and patients, it has launched a free rare disease think tank covering basic knowledge and treatment guidelines and maps for 143 rare diseases. It has also built China's first internet diagnosis and treatment platform for rare diseases.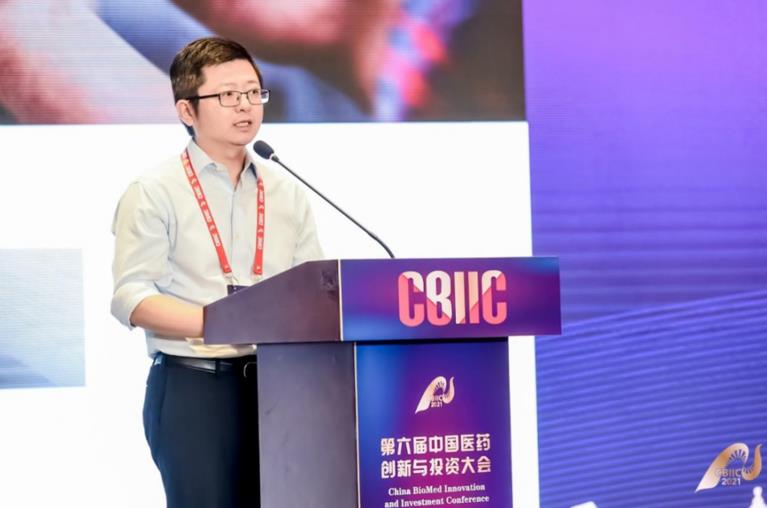 Shawn Xiang, CEO of RareStone Group
Winhealth Pharma, Bringing Real Impact to the Rare (Hongkong WinHealth Pharma Group Co., Ltd.)
Hongkong WinHealth Pharma presented its business from three aspects: The first aspect is the commercialization pipeline, which can generate annual sales profits and cash flow of $1 billion; the second aspect is the license in; and the third aspect is the search for cutting-edge technology platforms to do its own R&D. WinHealth focuses on the business of the second stage rocket. It has introduced two drugs, a drug for urea circulation disorder has been successfully prescribed in Hainan, and another drug for hereditary herpetic decomposition is in phase III clinical. At the same time WinHealth has established a rare disease drug centre in collaboration with the Lecheng Administration and has signed up more than 30 overseas products to land in Hainan to meet the urgent drug needs of patients.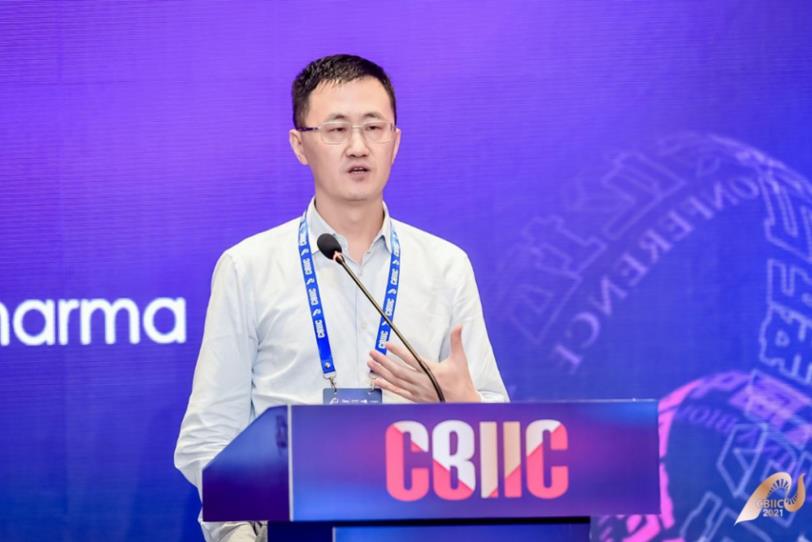 Oliver Hao, Co-CEO of Hongkong WinHealth Pharma Group Co., Ltd.