On December 21, 2020, Song Ruilin, Executive President of China Pharmaceutical Innovation and Research Development Association (herein after referred to as PhIRDA), met with Jackson Phang, Counselor of the Embassy of the Republic of Singapore in Beijing (herein after referred to as the Singapore Embassy) and Regional Vice President of Greater China of Singapore Economic Development Board. Both sides had a deep and fruitful communication on facilitating the conversation between pharmaceutical industries and building the mutual recognition mechanism for drug regulatory in China and Singapore.
President Song extended warm welcome to Counselor Phang. He mentioned that the Chinese government attaches great importance to the exchanges and cooperation in the pharmaceutical industry with ASEAN countries represented by Singapore. In addition, ASEAN countries including Singapore will be the main receivers of the COVID-19 vaccines made in China. As the country with the highest proportion of Chinese in the world, Singapore's open and inclusive business and pharmaceutical environment, strong basic scientific research capabilities and talent training mechanism make it a preferred country for foreign companies to enter the Asia and ASEAN markets. As more and more Chinese pharmaceutical companies are setting up branches and putting into production in Singapore, it has great potential in becoming a center for Asian pharmaceutical innovation R&D. PhIRDA is willing to cooperate with the Singapore Embassy and the Singapore Economic Development Board to give full play to the unique advantages of China and Singapore in pharmaceutical industry under the framework of the Regional Comprehensive Economic Partnership (RCEP), promoting Singapore's preferential investment promotion policies to build a cooperation and exchange platform for the pharmaceutical industry of both sides to help Singapore become the center of pharmaceutical innovation R&D in Asia.
Counselor Phang stated that the Singapore government has regarded the pharmaceutical industry as a new engine to drive the country's economic development. After years of development, Singapore has become one of the most dynamic pharmaceutical centers in Asia. The Singapore government has issued corresponding policies and attaches great importance to Chinese pharmaceutical companies to set up new factories and R&D centers. President Song and Counselor Phang expressed their willingness to actively promote the mutual recognition mechanism of drug regulatory between China and Singapore, accelerate the entry of Chinese approved drugs marketing in Singapore, and facilitate the regional integration of the drug regulatory policy system between China and ASEAN countries.
The meeting deepened the cooperation and exchanges between China and Singapore in the field of pharmaceutical industry innovation and R&D, laying a solid foundation for further cooperation between the two countries. Mr. Cai Zonglun, Director of Singapore Economic Development Board in Beijing, Ms. Feng Lan, Secretary General of PhIRDA, Ms. Ruan Xinxin, Deputy Director of International Affairs of PhIRDA and Mr. Li Gen, Project Manager of International Affairs of PhIRDA participated in the meeting.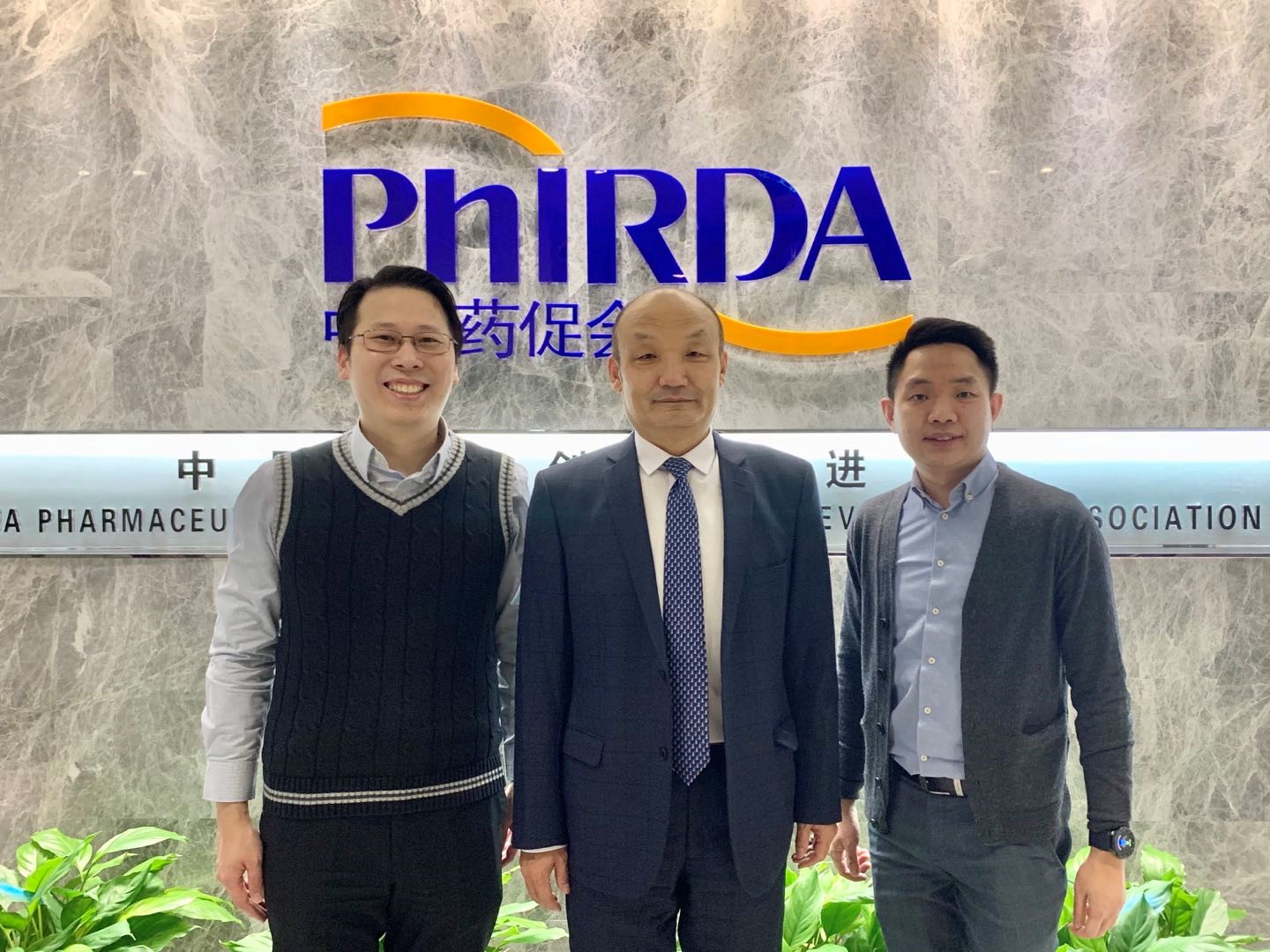 Jackson Phang, Counselor of Embassy of the Republic of Singapore in Beijing (Left)

Song Ruilin, Executive President of PhIRDA (Mid)

Cai Zonglun, Director of Singapore Economic Development Board in Beijing (Right)