On June 25, Dr. Song Ruilin, Executive President of China Pharmaceutical Innovation and Research Development Association (PhIRDA), leading PhIRDA Delegation visited Sino German Hi Tech Park.
Mr. Mike de Vries, COO of Sino German Hi Tech Park, Mr. He Jiangbin, Vice GM and CFO of Sino German M&A Service GmbH, Dr. Jan Gradel, Director Business Development of Sino German Hi Tech Park, and Ms. Liu Li, Business Director welcomed PhIRDA Delegation.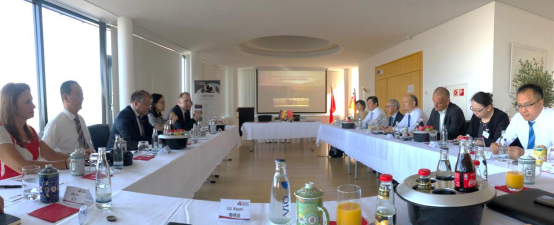 Meeting with Sino German Hi Tech Park
Mr. Mike de Vries first extended a warm welcome to PhIRDA Delegation and made brief introduction. Sino German Hi Tech Park focuses on high-tech R&D and international talents training; takes the "upgrading Chinese industries with the joint power of German authoritative R&D institutes and top talents" as the mission; and shifts from 'Made in China' to 'Created in China', from 'Quantity China' to 'Quality China', and from 'China producing' to 'Chinese branding'. Sino German Hi Tech Park successfully invested in and developed the first Chinese Offshore Innovation Zone in Europe. Mr. Mike de Vries said that China and Germany are working together in many fields, as for the fields lacking cooperation, the two sides should stick to a win-win principle, draw on each other's merits for further cooperation, and make PhIRDA could reach the medical community of German and Europe.
Dr. Song expressed his appreciation for the warm reception by Sino German Hi Tech Park and made introduction to PhIRDA's member. The communication and cooperation between China and Germany attaches great significance for spurring the Sino-Europe even global economic growth, and the two governments' support offer great support for the close partnership in each and all aspects. Given the fruit that two countries have achieved in cooperation, it is believed that the solid industrial foundation in Germany could provide great opportunities for Chinese enterprises to expand business in Germany. Chinese enterprises are bounded closely with German in the learning and application Industry 4.0 business model. PhIRDA, under the principle of 'innovation, internationalization and industrialization', always keeps close partnership with pharmaceutical enterprises and innovative institutes in Germany, and PhIRDA members, such as Luye Pharma Group, Fosun Pharmaceutical (Group) Co., Ltd., has made successful case of cooperation and M&A in Germany and Europe, with dramatic increment in business and scale.
Dr. He Jiangbin presented the status quo of Sino German Healthcare Fund. Sino German Healthcare Fund is invested by China and managed by Germany, looking for innovative early-stage pharmaceutical projects with potential development and promising market. They offers all-round supports for high-quality projects and start-up companies earlier than other capital investments, striving to promoting German pharmaceutical innovation at best.
Dr. Jan Gradel reviewed Heidelberg city and the delegation's visit to Germany, and briefly introduced the Biotech Cluster of Rhine-Neckar (BioRN). D-Gap, the transformative phase in pharmaceutical innovation R&D. How to avoid D-Gap is the key factor for the final result of a project. Dr Jan explained that D-Gap is frequently caused by the shortage of funding and technical support, while the mission of BioRN is to help developers and enterprises to go through the D-Gap safely.
Dr. Song introduced the Bio-medical Industrial Development Base in the Greater Bay Area in Shenzhen, China, including its geographic advantages, policies and regulations, talent and so on. For the leading pharmaceutical innovation projects from Chinese Hong Kong and foreign countries, the D-Gap can be avoided effectively because they are significantly supported in policy and fund in Chinese market. Besides, President Song expressed that the cooperation and communication between China and Germany should be based on the foundation of mutual trust. As the second large economy, China has spared great efforts on reform for bringing more high-quality foreign projects to China, and fostering the global pharmaceutical innovation side by side with other countries.
After the meeting, Dr. Song and Mr. Mike de Vries, COO of Sino German Hi Tech Park signed the memorandum on behalf of PhIRDA and Sino German Hi Tech Park.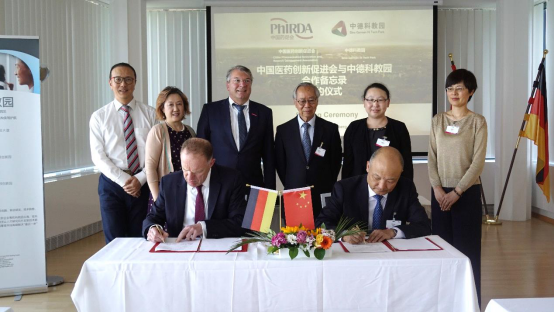 PhIRDA signed MOU with Sino German Hi Tech Park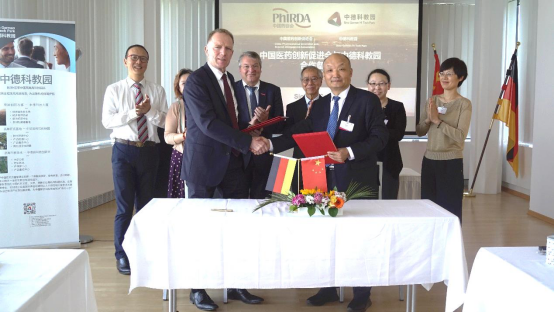 Representative for MOU Signing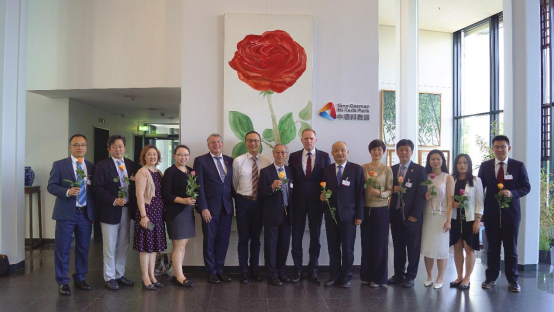 Representatives of PhIRDA and Sino German Hi Tech Park
So far, PhIRDA's visit to Europe has come to a satisfying conclusion, with a great success and rich fruits. PhIRDA Delegation held insightful meetings with representatives from Utrecht Science Park, Innovations Quarter, European Molecular Biology Laboratory(EMBL), Sino German Hi Tech Park and other renowned life science R&D institutes in Europe, visited Netherlands Cancer Institute (NKI), Cancer Center Amsterdam (CCA), VU University Medical Imaging Center, Leiden University Medical Center (LUMC), Center for Human Drug Research (CHDR), Heidelberg University Hospital and worldly famous clinical establishments and built close partnerships. PhIRDA Delegation also paid visits to innovative pharmaceutical companies including Mimetas and PharmaFit. By the Europe tour, PhIRDA Delegation gains deeper and comprehensive understanding about early-stage R&D and drug pricing in the Netherlands, drug market access, pharmaceutical innovation policies, current status of pharmaceutical industry and international experience in Europe. It sets up a platform for Chinese pharmaceutical innovation enterprises to develop internationally, offers bigger chances for domestic enterprises to expand oversea business with better international competitiveness, and boosts further communication of pharmaceutical community between China and Europe and even the whole world.